Setting up a business trip to be successful and productive all begins in the booking process. Here are some foolproof ways to make any work trips you book more enjoyable and efficient for the travelers you support.
===
Pick Exactly What Your Travelers Want (Without Breaking the Bank)
When it's all on you to coordinate travel arrangements, there's a lot on your plate to figure out. Finding the ideal balance between working within your budget while guaranteeing a smooth experience for your traveler is usually easier said than done.
Tasked with the role of company travel, your number one priority is to get travelers where they need to be. Beyond that, you also want your travelers to be as content with their trip as possible. That involves your travelers feeling that the trip was an efficient use of time. And for some savvy travelers, they'll find satisfaction in earning points and miles from their time spent on the road. Points and miles can mean so much to certain travelers that some will go to great lengths to reap the rewards–which puts their own productivity at risk in the process.
Thankfully, tools now exist that allow you to easily compare prices of different airlines, routes, and even fare classes–while also enabling travelers to receive the points they love so much. With these new tools, administrators can find the best choice for both their budget and their traveler's wishes. On top of that, travelers can spend their energy on work instead of fretting over lost loyalty points.
At Upside, we knew early on that travelers wouldn't want to give up their perks–so we built our booking platform to protect travelers from sacrificing anything. Administrators can enter their travelers' miles and rewards numbers into individual Upside profiles, and use that information–as well as our robust inventory–to book a trip that's both on budget and on target for a traveler's best interest.
Non-Stop Flights Allow for More Work On-The-Go
Unless you're traveling within the Northeast Corridor where Amtrak trains may make the most sense, flights should always be your first choice when booking trips for your travelers. Direct flights minimize time spent traveling and maximize travelers' ability to work and prepare while en-route to their destination.
On the other hand, layovers are inconvenient and interruptive. They can also cause unexpected delays. If layovers are short and even just one flight of the journey is late, it can set off a domino effect. The traveler could miss other scheduled flights and transport (like their car pickup) down the line.
Of course, long layovers can be just as unproductive. Spending hours in the airport is only going to frustrate and wear out travelers. The packing and unpacking of their laptop as they prepare for take-offs and landings may seem like small things, but the interruptions to their work do add up.
No matter how long or short, layovers make for less than ideal work conditions, and add time to your employees' already limited schedule. That's why you should always put travelers on the most direct route possible. By doing so, you'll keep things as simple and enjoyable as can be.
In the event that you have to choose a connecting flight, using a tool that backs you and your travelers' up with 24/7 customer support is important to keeping things seamless and stress-free. For instance, here at Upside we offer free support (via phone, email, and in-app chat) around-the-clock with our team of Navigators. That means, if a flight is delayed or cancelled, you and your travelers don't have to scramble to get a hold of the airline or run around looking for an agent at the airport. It's another way for everyone on the team to get some much-deserved time back.
Utilize Upgrades That Empower Employees
When it comes to business travel, one mistake a company can make is cutting corners on amenities. If you get in the habit of always opting for the cheapest flight, travelers are going to dread work trips. That will greatly impact both their efficiency and their ability to properly represent your brand.
While the free drinks and luxurious treatment of a first-class ticket might seem unnecessary, consider other upgrades from a business standpoint. Will an in-seat charger help your travelers get ahead while they're on the go? If so, you may need to upgrade them to first class or business class, depending on the airline.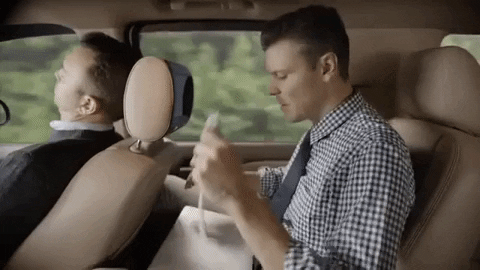 Some airlines offer such perks for a simple and affordable bump up to "premium" economy. A "premium" economy upgrade can also score them more legroom and perhaps food and beverages for just a few bucks more. That's why it's always worth checking out the next step up before booking.
Also, remember to look at potential upgrades from the perspective of your travelers. Especially on a long flight, your employees will arrive so much more energized and ready to ready to work if they have a comfortable plane seat and basic amenities while on board.
Otherwise, your travelers may find themselves in an unfortunate (and unproductive) reclining seat situation like this: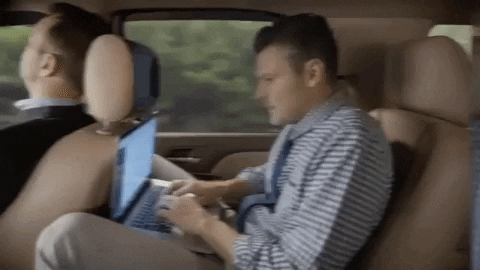 Choose A Smart Booking Tool That Pleases Everyone
Travel coordinators have a lot of people to please. Between juggling multiple schedules to getting employees the seats they want and making sure they don't overspend, the booking process in itself can take a toll on employee productivity. That's what makes using an all-in-one business booking solution like Upside so valuable.
With Upside's intuitive booking platform, your company will be able to optimize every aspect of the booking and employee travel process. From searching for flights to communicating with travelers to keeping employees on-time, Upside has you covered. Handy features, like an automated itinerary, ensure that everyone is on the same page while making getting around as easy as possible for those on the go.
For employees who travel frequently, no one will have to re-enter the employee's essential travel information over and over again. Upside gives teams the ability to create traveler profiles and import a traveler's details with just a click whenever it's time to make a new booking.
All of this saves time for travel coordinators. Meanwhile, Upside also preserves the best interests of executives and employees, too! Travelers get the flights, amenities, and rewards they expect—all while maximizing the budget.
Want to learn more about how your team can make the most of time and money when booking with Upside? Visit Upside.com to get the full scoop on how you can enroll your small business for free.